The word of God? Unlikely.
Inventive and full of interesting stories? Most definitely yes.
But alas, I believe in Science, not fiction.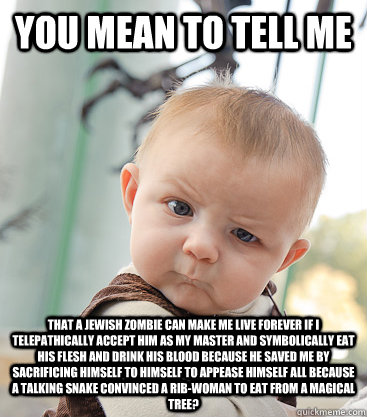 Also let's not forget about all the condoning of rape, murder and pillaging that this book is full of - especially in the Old Testament. It's disgusting to think that people call this "The Good Book" and hold it sacred.
*EDIT*
By popular demand, here are just a few (obvious) references - did my best to find the English names & translations online (http://www.biblestudytools.com/), as my bible is in Danish and will do little good in an international forum.
Let's start with a good ol' classic tale of
infanticide
: Exodus 12:29-30
At midnight the LORD struck down all the firstborn in Egypt, from the firstborn of Pharaoh, who sat on the throne, to the firstborn of the prisoner, who was in the dungeon, and the firstborn of all the livestock as well. Pharaoh and all his officials and all the Egyptians got up during the night, and there was loud wailing in Egypt, for there was not a house without someone dead.
A classic about
marriage, sexually active women, rape and the treatment of rape victims
is Deuteronomy 22:13-30
If a man takes a wife and, after lying with her, dislikes her and slanders her and gives her a bad name, saying, "I married this woman, but when I approached her, I did not find proof of her virginity," then the girl's father and mother shall bring proof that she was a virgin to the town elders at the gate. The girl's father will say to the elders, "I gave my daughter in marriage to this man, but he dislikes her. Now he has slandered her and said, 'I did not find your daughter to be a virgin.' But here is the proof of my daughter's virginity." Then her parents shall display the cloth before the elders of the town, and the elders shall take the man and punish him. They shall fine him a hundred shekels of silver and give them to the girl's father, because this man has given an Israelite virgin a bad name. She shall continue to be his wife; he must not divorce her as long as he lives. If, however, the charge is true and no proof of the girl's virginity can be found, she shall be brought to the door of her father's house and there the men of her town shall stone her to death. She has done a disgraceful thing in Israel by being promiscuous while still in her father's house. You must purge the evil from among you. If a man is found sleeping with another man's wife, both the man who slept with her and the woman must die. You must purge the evil from Israel. If a man happens to meet in a town a virgin pledged to be married and he sleeps with her, you shall take both of them to the gate of that town and stone them to death--the girl because she was in a town and did not scream for help
[apparently gagging was unheard of back then?]
, and the man because he violated another man's wife. You must purge the evil from among you. But if out in the country a man happens to meet a girl pledged to be married and rapes her, only the man who has done this shall die. Do nothing to the girl; she has committed no sin deserving death. This case is like that of someone who attacks and murders his neighbor, for the man found the girl out in the country, and though the betrothed girl screamed, there was no one to rescue her. If a man happens to meet a virgin who is not pledged to be married and rapes her and they are discovered, he shall pay the girl's father fifty shekels of silver. He must marry the girl, for he has violated her. He can never divorce her as long as he lives. A man is not to marry his father's wife; he must not dishonor his father's bed.
The place of women
Timothy 2:11-12
A woman should learn in quietness and full submission. I do not permit a woman to teach or to assume authority over a man; she must be quiet.
---> Which was again enforced by Paul in:
Corinthians 14:34-35
Women should remain silent in the churches. They are not allowed to speak, but must be in submission, as the Law says. If they want to inquire about something, they should ask their own husbands at home; for it is disgraceful for a woman to speak in the church.
And let's finish of for now with more rape and murder:
Isaiah 13:15-18
Whoever is captured will be thrust through; all who are caught will fall by the sword. Their infants will be dashed to pieces before their eyes; their houses will be looted and their wives ravished. See, I will stir up against them the Medes, who do not care for silver and have no delight in gold. Their bows will strike down the young men; they will have no mercy on infants nor will they look with compassion on children.
Update 21/08/2013:
I came across this little funny movie on Youtube todat - have to share it! :)
https://www.youtube.com/watch?v=RB3g6mXLEKk